Looking for budget-friendly and affordable hotels, inns and transient houses in Baguio? Check out this list of Cheap Baguio Hotels for your next trip to the "City of Pines!"
Baguio City
has always been a favorite
summer destination
among Filipinos. But it is not only during summer that one should
visit Baguio
. With its many hotels, lovely tourist attractions, exciting activities offered, and delicious food, it is definitely an all-year-round destination! If you're on a tight budget and looking for places to stay in Baguio City, I listed here some of the
cheap accommodations
such as hostels, guest houses, inns, and transient houses in
Baguio City
that you might want to consider.
TRAVEL TIP:
For ease and convenience, you may book your Manila to Baguio City bus tickets in advance. You may also book and reserve online a one-way or roundtrip bus tickets ahead of time.
BOOK MANILA TO BAGUIO BUS TICKETS HERE!
Cheap & Affordable Hotels and Transient Houses in Baguio City
More Hotels and Transient Houses in Baguio City with Promos and Discounted Rates, HERE!
1. Baguio LeFern Hotel
Address:
90 Military Cut-Off, Baguio City Proper, Baguio, Philippines, 2600
Guest Reviews/Comments:
"Le Fern (Military Cut-off Branch) is a relatively new hotel located around 5 mins (by car) to Baguio's tourist spots. Some of the things we particularly liked about the hotel were the room sizes - just right, cleanliness, interior design, and proximity to places we intended to visit. The staff seemed efficient and we did not encounter any difficulties during our stay. We loved the breakfast buffet too! Definitely one of the better ones we have had. A few notes/tips to consider: 1. Some of the rooms face Military Cutoff Road, which is quite a busy street. The noise can be an issue for those sensitive to it. Try to book a room that's not facing the street. 2. The building did not have an elevator but the stairs were designed quite well - wide, well-lit, and with shallow steps. Consider this especially if either you or your companion/s are elderly or have difficulty with stairs. 3. There's a convenience store beside the lobby. 4. As with most newer hotels in Baguio, the rooms did not have air-conditioning. No big deal since the weather was perfect during our stay. Overall, Le Fern provides excellent value for money. We'll definitely consider staying there again the next time we visit."
SEE DISCOUNTED ROOM RATES + MORE PHOTOS!
2. Sunset View Ridge Residences
Address:
19 Gilf View Horizon, Suello Village, Baguio City
Guest Reviews/Comments:
"The place was very homey and clean. super quiet at night. nice view from the restaurant. big servings of food. just a bit far from the usual go to places of Baguio. although for us it did not matter that much because we brought our car. so this might be a problem for those who will be commuting around Baguio. overall experience was good though. we were happy staying here. :) sa sobrang comfy ng place we usually went to bed early. hahaha then gising ng maaga for gala. in short we were well rested because of this place. we loved it! :) con for me: the TV had Netflix but nobody knew from the staff what the passwords were for the accounts. we tried putting in our own Netflix account but we couldn't log in."
SEE DISCOUNTED ROOM RATES + MORE PHOTOS!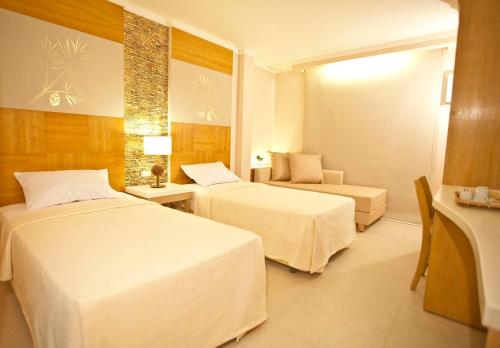 3. Chalet Baguio
Address:
Upper Military Cutoff Road, Baguio City Proper, Baguio, Philippines, 2600
Guest Reviews/Comments:
"This hotel is clean, modern, and is in a convenient location to all local attractions. the chalet baguio is just a moderate walk from the victory liner terminal. because baguio is hilly, i would not recommend anyone walk there with their luggage, but it is well located to explore the things around the terminal after getting settled. a walk to sm city baguio and camp john hay are also possible. the hotel itself is about a year old, very clean and modern. the staff is friendly and helpful. a hot water heater is located in the shower, although the sink only has cold water. transportation by taxi or jeepney is readily available for modest fares. a number of good shopping and dining venues are close by. there are several choices for the free breakfast, both western and filipino. the food is good, but not generous. the chalet baguio is certainly a value for the price. i will stay there again the next time we visit baguio."
SEE DISCOUNTED ROOM RATES + MORE PHOTOS!
4. Le Monette B&B
Address:
112 Bright Red Street, Lower Q.M., Baguio City, Philippines, 2600
Guest Reviews/Comments on Tripadvisor:
"It was a pretty cheap accommodation so you can't really expect much, but at the time of my stay, it was clean and quiet and there were only two of us in the whole house. I arrived at almost 9 PM and they were very accommodating. My room was about a few houses away from the main office, but I had the room to myself, and it's more than what I expected for what I paid for, really. The room had one (single over full) bunk bed, so it was simple with thin walls but comfortable. No view though. Bathroom right outside my room. The shower and another bathroom was near the kitchen and they showed a heater in the shower but I didn't stay long enough to have tried if it worked. Only thing I can really complain about is the internet. WiFi isn't stable in my room and they said the better WiFi signal was at the main office, again a few houses away, but at that time, it still wasn't really working too well. Someone I spoke to at the office said the last time they had internet problems was three months prior, but otherwise, they said they had good internet service there. They also offered free coffee. Public transportation available right outside. The place was in a residential area." -MissisDee
SEE DISCOUNTED ROOM RATES + MORE PHOTOS!
5. Villa Silvina Hotel and Restaurant
Address:
15 Outlook Drive (Behind Presidential Mansion House), Baguio City, Philippines, 2600
Guest Reviews/Comments on Tripadvisor:
"We were looking for a place for an overnight stay, to wash and freshen up and good night's sleep. We found this place and checked in immediately, the room was good for three persons; three single beds, LCD TV, toilet and bath (not sure of the free toiletries, I was the last one to use the bathroom and I always carry my own) wall fan and we did not bother about the view because were just dead tired. Rooms are clean and basic, good for families and children. I think it is a big house converted into a Inn. I find the place homey and comfortable for the cold and rainy Baguio weather, the staff are welcoming and the security guy even helped us unload our baggage and carried it to our rooms, There is a big dining area where you can get hot water and Benguet Brew Coffee from their coffee station, with mugs, drinking glass, water dispenser. I asked them if I can take the glass and mug with me to the room and they said yes and return them upon check out. Wifi is available in public areas and not in the rooms, they serve food and portions are (as per the menu) good for sharing. Parking is available but only outside, however there is a security personnel stationed outside. Only thing I noticed about this property is it is not accessible to PWDs and elderly because the staircases on the entrance of the hotel and into the second floor to some of the rooms. All in all we enjoyed our stay and value of for money. I would come back if I have the chance to visit the City of Pines again." -notsooldtraveller
"The morning fog and the homely ambience and seclusion are its staple attraction. This is the place to be if you want to escape the hustle of Baguio's city life. It's located at Outlook Drive which is not a common lane for commuters, but it's easily reachable via taxi from the city proper (Php 60-90). It's a walk away from The Mansion/Wright Park and a few more strolls away from the captivating Baguio Botanical Garden. It's a jeepney ride away from Minews View Park, Good Shepherd Convent, and a taxi ride away from Camp John Hay and Baguio Country Club. It's super close to my new favorite Baguio resto Lemon and Olives! I love the crisp smell of wood and fresh linens. The lobby is chic, quaint and reminiscent of the old Baguio houses I knew. I booked my stay online for only Php 1600 for 3 people. I will definitely come back here on my next Baguio getaway." -Lawrence A
SEE DISCOUNTED ROOM RATES + MORE PHOTOS!
6. Upstairs Bed and Bath
Address:
Leonard Wood Road, Baguio City, Philippines 2600
Located at the heart of the city, it is very near SM Baguio, session road, restaurants, business and commercial establishments and Victory Liner bus station. They offer male, female, and mixed shared dormitory rooms for as low as 400 pesos per person per night with common toilet and bathroom. Rate includes clean and fresh towels, and complimentary WiFi access. Check-in time is 2:00 PM and Check-out time is at 12:00 NN.
SEE DISCOUNTED ROOM RATES + MORE PHOTOS!
7. Travelite Express Hotel
Address:
Shuntug St. cor F. Bautista Drive, Baguio City Proper, Baguio City
Guest Reviews/Comments:
"We booked via Agoda and since we're a couple, we've just got the 2 single beds instead of 1 queen bed. But it was okay since it's the only available room the time we booked. Upon arrival, we asked the receptionist if they allow early check-ins. Unfortunately not, but they let us leave our valuable things instead. Pros of this hotel, perfect location, there are restaurants right outside the hotel Kuya J's, Yellow Cab and two Asian restaurants. There's Padi's Point if you are into a bar and like to have a more chilly and relaxing night. Walking distance and very accessible to most of your necessities, Market, SM Baguio, Burnham Park, Night Market with lots of street foods and pika-pika to choose from. Clean room with minimalist design, AC, ceiling fan, hot and cold shower, strong water pressure, fast wifi and cable big flat screen TV, well-lighted hallways, welcoming and helpful staff. One thing that was new to us, you need one of the guard's Ids assigned that day/night to tap it for the elevator to work and bring you to your hotel floors. Good idea, it brings us the feels of extra security 24 hours. Now for the Cons, no comfort room in the lobby area, no chairs, and tables inside the room, no closet just a few hangers, no bidet hence you need to wash your butthole inside the shower room. No toothbrush and toothpaste, no free bottled water or even coffee in the room. Hope they consider and provide customers necessities in the future for a more convenient and well stay experience. But overall, it was truly a great stay at Travelite Express Hotel and will definitely stay here again. Highly recommend to family and friends."
SEE DISCOUNTED ROOM RATES + MORE PHOTOS!
8. NYC Manhattan Suites
Address:
# 37 Roman Ayson St. , Campo Filipino, Baguio City Proper, Baguio City
Guest Reviews/Comments:
"Staying for 2 nights in NYC Manhattan Suites were such a satisfying hotel accommodation we experienced as I, together with my eldest brother and my son, celebrated our New Year in Baguio City. Except for the slippers, we were all delighted in Manhattan Suites. The free breakfast that were served deliciously, he hotel's wi-fi, the room and its facilities including the balcony were we enjoyed looking at the view, the staff who responded swiftly upon phone call by the beautiful front desk staff named Jen and the owner of the hotel Mr. Fernando, were all amazing! Thank you. NYC Manhattan Suites is truly recommendable for tourists looking for excellent hotel to stay in."
SEE DISCOUNTED ROOM RATES + MORE PHOTOS!
9. High Point Boutique Inn and Restaurant
Address:
#1 Amistad Road, corner Kennon Rd, Camp 7, Baguio City
Guest Reviews/Comments:
"I traveled with my bf and my 2 siblings in the middle of June 2016. We rented (2) rooms with a double bed. We paid PhP 1,000 security deposit per room upon check in but it was refunded back upon check out. We were each given complimentary breakfast tickets to use. The staff were very accommodating especially since we arrived around 11 PM. The rooms were spacious and clean. The view from the window was of neighbors/houses, which was okay (we were out most of the day). The closet had hangers and the A/C worked perfectly (thank you!). Toiletries and (2) complimentary water bottles were provided. The bathrooms were clean but the shower water pressure was just okay. It had hot water but it was hard to find the optimal temperature (only if you're patient enough). Or, it would be hot one second and the next thing, ice cold water. WiFi signal was good, a little choppy at times. It was nice and quiet at night! Breakfast was delicious. There was a list of Filipino breakfast food (rice and meat/eggs) and pancakes. Orange juice aka "Tang" was tasty. The portions were considerably filling, enough to last you until lunch. It is located on Kennon Rd, a bit far from the town center. Jeepneys and buses do ply that area; there is a waiting shed/stop nearby. It is a really nice, cozy little inn in the outskirts of the city. Overall, I'd recommend High Point Boutique Inn."
SEE DISCOUNTED ROOM RATES + MORE PHOTOS!
10. Hotel Caterina
Address:
# 1 Labsan St. cor. Naguilian Rd (Beside Justice Hall), Baguio City Proper, Baguio
Guest Reviews/Comments:
"This hotel is a gem and has an ideal location almost in the centre of the town, so easy tofind, and within walking distance of everything there is in Baguio City. The staff are amazing and friendly, the roooms are excellent and of a high standard (if your tv has a speckled picture wiggle the cable at the socket for a clear picture) Breakfast was the only downside, dont get me wrong, the food is tasty and well presented, just basic. Overall, will definately be re-booking this aazing hotel for my next trip to Baguio"
SEE DISCOUNTED ROOM RATES + MORE PHOTOS!
SEE ALSO:
List of Best Hotels in Baguio City
Agoda
is one of the world's leading hotel booking platform with a wide listing of properties around the world. Enjoy up to 50% off discount on published room when you book in advance. Happy booking!
I hope this list of cheap hotels, hostels and transient houses in Baguio City help you find an affordable place to stay when planning your next Baguio vacation!
More Hotels and Transient Houses in Baguio City with Promos and Discounted Rates, HERE!
ALSO READ:
30+ Awesome Things To Do in Baguio City + Sample Itinerary