Call me hopeless romantic, but I am proud to say that I am a true believer of
everlasting love
. That is why when asked about
"If you could only pick one, would you rather have Unlimited Wealth, Immeasurable Knowledge, or Everlasting Love? Why?"
my quick answer is everlasting love.
In life, sometimes we get thrown different circumstances that would make us choose between options. Sadly, we can't have it all. We need to give one up to have the other.
Wealth
is something that is tangible. You can have a lot one morning and have none of it left the next. However, even if that is the case, everyone still seems to work so hard to have a lot of it. Heck, it even is so important to others that they put it on top of everything else in their life even if it means they would have to do evil to achieve it.
Knowledge
on the other hand is something that money can't buy. A lot of people spend their lives trying to absorb as much as they can to be the best version of themselves in this world. When you try to think about it though, how far does immeasurable knowledge even take us? If intelligence is unique to each individual, could we ever truly say that we are the best in a certain field?
At the end of the day, I choose
everlasting love
because it is the most important in life. When life is driven with love, you always seem to be inspired to not only work, but work your hardest. It is by having such love would you be able to be a better person in all aspects - may it be personal, familial, friendship, or romantically.
This brings me back to one of my most memorable trips last year. The time when
"hugot lines"
were so popular brought about by the hit movie
"That Thing Called Tadhana."
Now, let me share to you some lessons about love that I learned from that trip.
8 Things about Love that you could Learn from Traveling to Sagada
1. You should know where to start
When traveling to
Sagada
or to any parts of the world, you should know where to start. Always be prepared. Know the bus or flight schedules and frequency of trips. That way, you know how you'll start your travel. Just like finding everlasting love, you should know if you're prepared or not. For a trip to Sagada, the adventure starts when you decide to endure the long hours of travel from Manila. If you're not ready for the adventure in finding everlasting love, don't go!
2. There's a right timing for everything
Know the bus schedules of getting to Sagada. Also, be sure to know which bus company you want to take. Finding the right time, the right moment is the key. It might take some time, but just keep on going. Always remember that there's a right time for everything - that includes finding everlasting love.
3. You should enjoy each moment
If you're traveling to Sagada via Halsema hi-way from Baguio City, appreciate the awesome view as the bus traverses through this road. Enjoy the jaw-dropping views and spectacular sights filled with pine trees and mountains while being
caressed by the cold weather
. Certainly, it's one of the best hi-ways in the Philippines with breathtaking views!
Enjoy lang! 'Wag ma-stress sa tagal ng byahe! Ganun talaga, finding everlasting love ay dapat pinaghihirapan.
4. Take it slow and be patient
The bus ride takes about 6 hours from Baguio to Sagada. It's a 100 km journey on a long yet adventurous ride. Be patient, it's worth the long drive. Trust me!
5. It may not be smooth all the time, but it's part of the journey
Halsema hi-way is a long and winding
(sometimes bumpy)
road that will take you to Sagada. Just enjoy the ride, and be sure not to throw up!
Hahaha! Pero kapag hindi mo na kaya; kumuha ka ng plastic, isuka mo na, mahirap ipunin yan sa loob mo.
6. It is never easy, but it is worth it
Follow what your heart desires. The travel is never easy, but it is worth the long trip. It would take a lot of hard work and a ton of patience in
traveling to Sagada
. Invest time, a lot of patience and effort. Sooner or later, you'll get there.
Kapit lang! 'Wag kang bibitaw!
7. Know where and when to stop
The bus takes several stops before reaching
Sagada
. Be sure you're already there before finally alighting the bus and unload your baggage.
Isama mo na rin pagbaba mo ang mga "excess baggage" na dala-dala mo! Kapag nagkamali ka ng baba at iniwan ka na ng bus, huwag mo nang habulin, may darating pa namang ibang bus. Pwedeng medyo matagal, pwedeng mabilis lang. Basta, 'wag kang susuko... Wait ka lang!
8. Believe in everlasting love
Once you visit Sagada, you will love it forever and you'll start to believe that there's such a thing as "everlasting love." Believe me; it's worth all the long and uncomfortable ride just to get there.
TIWALA LANG!
I had my own share of heartaches and disappointments.
But I never give up.
I always believe that love is the most essential ingredient of a happy and successful life. With love, you strive to learn more and be inspired to work harder.
Just like in traveling, "kapit lang" sabi ng tarsier. You'll definitely get to where your heart desires!
I remember a wise person once telling that when everyone else is equal when it comes to intelligence and wealth, what would separate us from them is our attitude towards life and who we are as people. It is never a question of who is more successful or who receives the bigger paycheck. So remind yourself constantly to be kind to one another and believe in the good in everybody.
I always believe that it is essential to have a lot of love in our hearts. Love that's meant to be shared and a kind of love that's endless and overflowing.
This post is exclusively written for
eCompareMo.com
.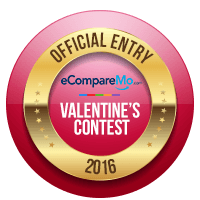 What are your thoughts about finding everlasting love? Share it by leaving a comment below.